Credits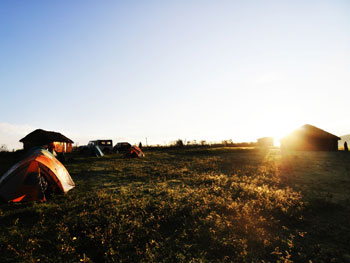 Sunrise over a campsite
Managing Director Pathways to Peace Project
Willy Shikuku
Project Staff
Peter Muchane Gichuru
Alnavas Amlani
Simon Kamuri
Omar Haj Mbaruk (BOB)
Joseph Ole Marima
Robert Ole Rerente Mengoru
Sammy Olayo Ooko
Wildlife Clubs of Kenya
Special thanks to Margaret Otieno
Thanks also to Erick Deche and Linah Wodera for operational support at both national and regional levels
The team also appreciates the local communities of Loita Maasai for allowing the project to use their home (Loita Hills) for 10-day wilderness expeditions.
Kenya Wildlife Services (KWS)
for allowing use of Ndere Island National Park, Lake Nakuru National Park and Mombasa Marine National Park as wilderness classrooms for 3-day orientation courses.
National Museums of Kenya
for offering the Institute of Primate Research Campsite in Karen for Nairobi based 3-day courses.
The National Cohesion and Integration Commission (NCIC)
through its commissioner Lawrence Bomett who gave moral support and spoke to the participants often on the need to develop and keep peace across ethnic divides.
The Board of Janam Peace Building Kenya
Dr. Beatrice Khayota
Mark Oluoch
Christine Anyango
The Board of Friends of Janam Peace Building Foundation
Peter Lynch
Sandra Conway
Lantien Chu
Ericka Gibson
Albert Mitugo
Caroline Sink
Eston Whitfield
Mei Ratz for the photography of the PTP project.
Marziya Mohammedali for design and construction of the website.
We also appreciate the important contribution of Professor John Stanback.
Thanks also to all the committed donors - some who gave multiple times over the two years; there are no words sufficient to express the depth of gratitude felt by the project team on your account. Without your involvement the project may never have witnessed these results.